The Lyon
The ultimate tweed field coat for game shooting. A raglan sleeve front combined with 'action back' shoulders gives full freedom of movement. 2 cartridge pockets with tabs, 2 handwarmer pockets, 1 Napoleon zip pocket, 1 inside breast pocket, wool storm cuffs, quilted lining and fully waterproof.
Sample shown is in tweed 3430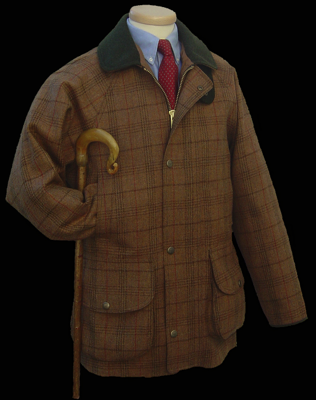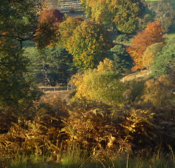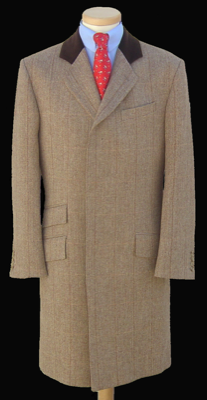 The Perth
A traditional tweed overcoat with velvet collar. Pockets may be slanted (as shown) or straight.
Two inside breast pockets - ticket pockets are optional.
Single vent back.
A double breasted coat is also available
Sample shown is in tweed 3512 CHLWD
Jackets & Shooting Suits
Our standard specifications are:
Single breasted, One outer breast pocket, Buttonhole, 2 straight side pockets, 2 inside breast pockets, 4 cuff buttons, double vent.
Options:
Slanted pockets, Outside ticket pocket, Inside ticket pocket, single vent, Inside keepers pocket, Action back centre pleat or shoulder pleats, half back belt, storm tab on collar.
Sample shown in 3518 CHLWD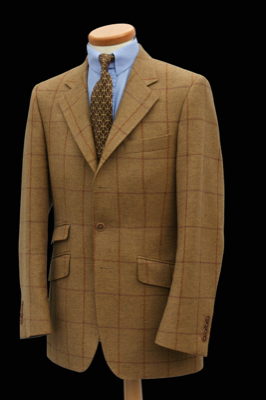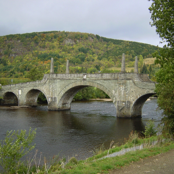 Plus 2's & 4's
Our plus 2's & 4's have 2 side pockets, 2 back pockets, single pleats and are fully lined.
All our tailoring is made-to-measure so options such as velcro or buckle and strap knee fastening is entirely your preference as are the standard specifications.
Samples shown are in tweed 3016 CHB & 3824 (patchwork) CHB